College of Nursing
2014 Distinguished Graduate Award Recipient - Educator Category
Please join us in congratulating College of Nursing Alumna Maria Rodriguez Shirey, PhD, MBA, RN, NEA-BC, ANEF, FACHE, FAAN on her selection as the 2014 Distinguished Graduate in the Educator Category.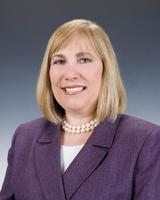 Dr. Shirey is currently a Professor of Nursing, in the Department of Family, Community & Health Systems, and Assistant Dean, Clinical Affairs & Partnerships at the University of Alabama at Birmingham School of Nursing in Birmingham, Alabama.
Dr. Maria Rodriguez Shirey teaches leadership, health policy, and scholarly writing in the Doctor of Nursing Practice program at UAB. Her research on nurse manager work complexity has been used to affect workforce policy at the state and national levels. Her work to explain the relationship between authentic leadership and the practice environment of nurses is considered a seminal contribution.
Dr. Shirey received a Bachelor of Science in Nursing from Florida State University, a Master of Science in Nursing from Texas Woman's University, a Master of Business Administration from Tulane University, and a PhD in Nursing Science from Indiana University. She holds board certification from the American Nurses Credentialing Center (advanced nursing executive practice) and from the American College of Healthcare Executives (healthcare management) where she is also a Fellow. Dr. Shirey is a prolific author, editor, and speaker. She has served as past Board Chair of the AACN Certification Corporation and is currently President of the American Board of Nursing Specialties.
In recognition of Dr. Shirey's contributions to nursing and health policy, she was inducted in November 2010 as a Fellow of the American Academy of Nursing. For her exceptional contributions to teaching, she was selected in 2014 as a Fellow of the Academy of Nursing Education of the National League for Nursing.
We will celebrate Dr. Shirey's selection as the Distinguished Graduate in the Educator Category during the Homecoming Awards Dinner on Friday, November 7 at 6:00 pm on the 5th Floor of the University Center, located in Building B of Doak Campbell Stadium. To RSVP your attendance to the dinner, please click here. The cost for the dinner is $35/person and parking will be available in the stadium parking lot. The College will also be participating in the Homecoming Parade at 2:00 pm on Friday, and the All College Tailgate in the backyard of the President's House 3.5 hours prior to kick-off. To learn more about the All College Tailgate and to register please click here.