Distinguished Graduates Awards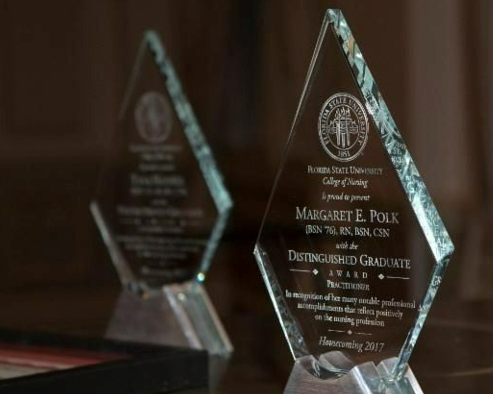 Our Distinguished Graduates Award Program serves to recognize and celebrate the accomplishments of College of Nursing alumni for their outstanding contributions to the healthcare of patients, through nursing care, research and their demonstration of the ethics and values of the nursing profession. Award recipients are selected by the Nole Nurse Alumni Council. 
Nominations for the 2024 awards are now open until January 5th.
Nominate a Nole Nurse Alumni Today!
Daisy Awards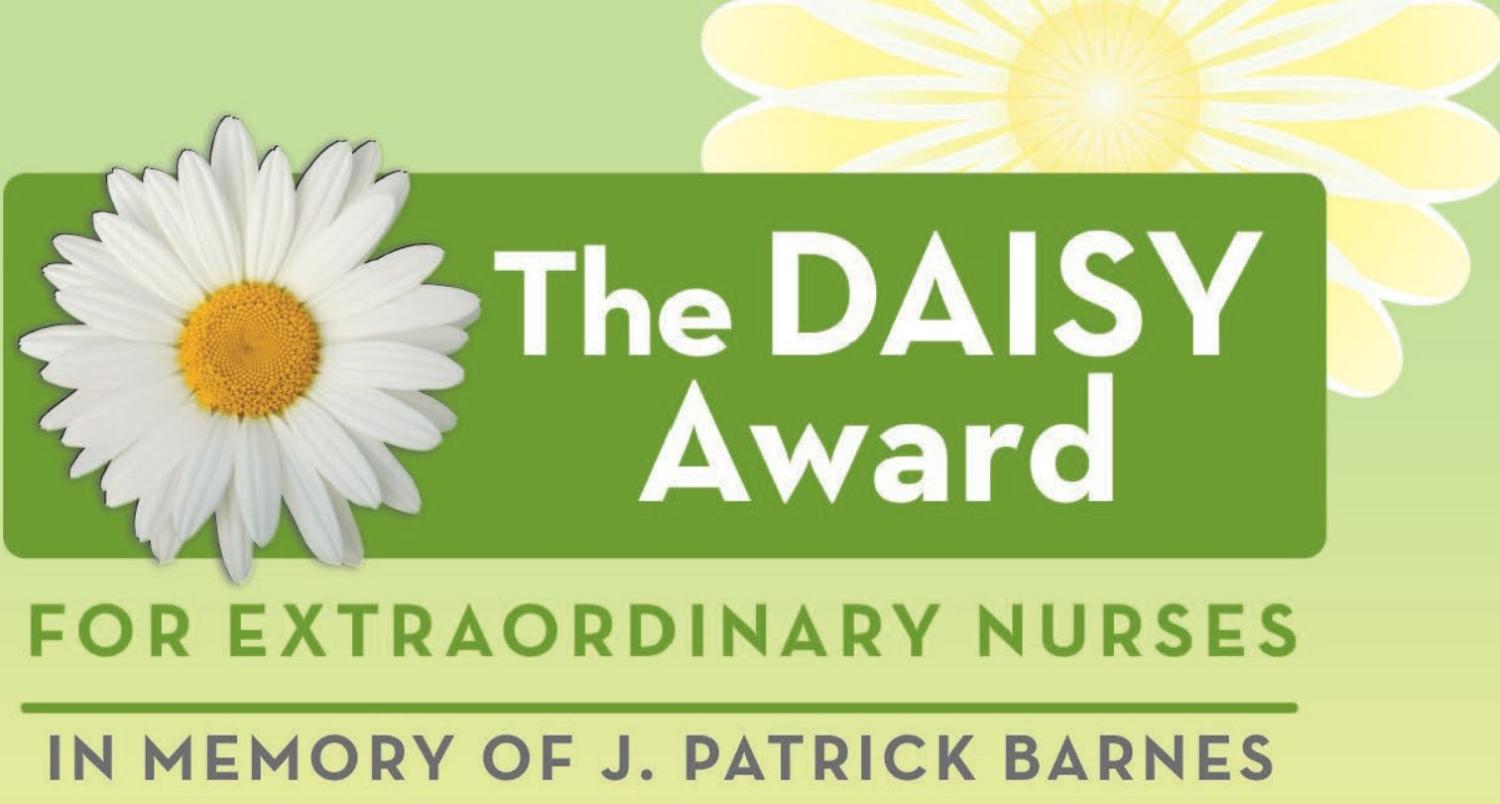 The DAISY Award Program is an international recognition program established to honor the memory of J. Patrick Barnes. Through this program, nurses are recognized and honored for the compassionate care they provide no matter where they practice, in whatever role they serve, throughout their careers. Read more about the DAISY Foundation and Award Program here.
Nominations for the 2024 awards are now open until January 5th. 
Nominate a College of Nursing Faculty Member Today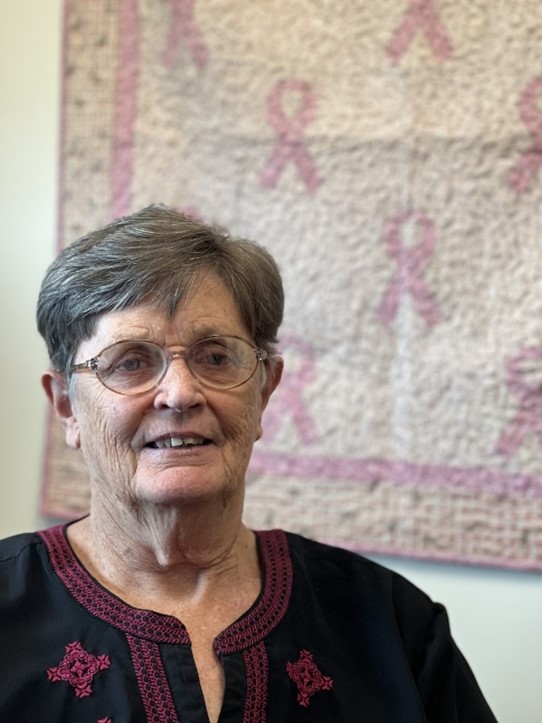 Dr. Susan Porterfield, DAISY Award Lifetime Achievement
Dr. Porterfield has spent the majority of her adult life committed to the field of nursing. Florida State University has been blessed by her expertise, kindness, dedication, and passion for nursing. Her passion for educating nursing students has excelled the nursing profession and made a lasting impact on many lives. She exudes a level of patience and empathy for students that is second to none. She is a wonderful advocate and has a heart of gold for all others. The FSU College of Nursing is eternally grateful for the tremendous contributions and unwavering dedication of Dr. Porterfield. Her exceptional work has left an indelible mark on our institution and inspired countless students, colleagues, and faculty members.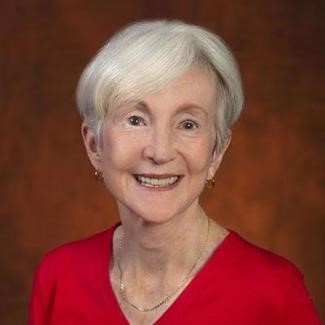 Dr. Laurie Grubbs, DAISY Lifetime Achievement
It is with great pleasure that we recognize Dr. Grubbs for her exceptional contributions to nursing education and scholarship. As a nurse, scholar, mentor, and professor, Dr. Grubbs has left an indelible mark on the lives of her students and colleagues alike. Dr. Grubbs' unwavering commitment to her students is evident in her willingness to provide wise counsel, encouragement, and support when her students face challenges. In addition to her mentorship, Dr. Grubbs is an outstanding instructor, imparting her knowledge and experience with a dynamic and engaging teaching style. Her students describe her as knowledgeable and humble, with a wealth of experience in research, practice, and grant funding. However, despite her expertise, Dr. Grubbs remains open to feedback and continually seeks to improve her teaching skills to better serve her students. As a nurse, Dr. Grubbs' example of tenacious care for patients is inspiring. Her commitment to patient-centered care and advocacy is evident in her scholarship, which focuses on improving patient outcomes with evidence-based practice. Her passion for research and inquiry extends to her students, whom she encourages to embrace the spirit of discovery and pursue lifelong learning. Dr. Grubbs' influence on her students is immeasurable, and her impact on the nursing profession is profound.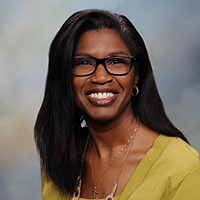 Dr. Sabrina Dickey, DAISY Award Advancing Health Equity
Dr. Dickey's unwavering dedication to integrating social care into overall healthcare is truly remarkable. As a researcher focused on achieving health equity in underserved communities, she has been an advocate and active supporter of empowering and encouraging these communities to engage in positive health behaviors and access healthcare services. Dr. Dickey has gone above and beyond by spearheading community health fairs during the COVID-19 pandemic, providing essential resources like food, housing vouchers, health insurance information, and entertainment in a safe outdoor environment. Her efforts have not gone unnoticed, as the community health fair she organized in the summer of 2022 received overwhelming positive feedback. Attendees expressed gratitude for the resources provided and the opportunity to engage in a safe and supportive environment. Dr. Dickey's commitment to achieving health equity for all is truly inspiring. She has observed the needs of marginalized communities and worked tirelessly to provide a variety of resources to meet their health, financial, and social needs. Her dedication to this cause is a shining example of what it means to be a true advocate and champion for health equity.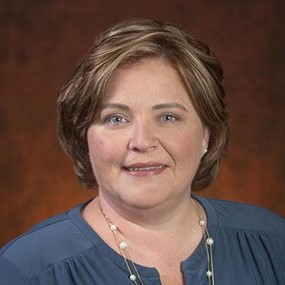 Dr. Leeann Barfield, DAISY Award Extraordinary Nursing Faculty
Dr. Barfield's commitment to her students is truly remarkable and inspiring. Her unwavering patience and grace in addressing the same questions repeatedly over the years is a testament to her dedication to teaching and mentoring. Her passion for her students' success is palpable and evident in the extra hours she puts in and additional tasks she completes to support them. She encourages her students to reach out to her for anything they need, and her genuine care and concern for their well-being are evident in her actions. As a professor, mentor, advisor, friend, and mother figure, Dr. B embodies the qualities that we all strive to emulate. She has found her true calling as a nursing faculty member and has touched the lives of countless students who are forever grateful for her guidance and mentorship.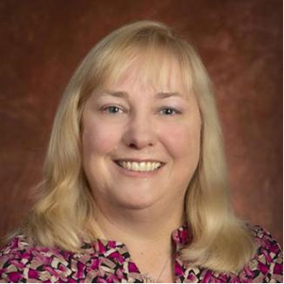 Dr. Kathy Keane, DAISY Award Extraordinary Nursing Faculty
Dr. Keane is a trailblazer when it comes to teaching, consistently striving to make learning an enjoyable experience for her students. She's always on the lookout for new and innovative methods to make learning more engaging and interactive, and her enthusiasm is truly infectious. Not only is she a brilliant educator, but she is also incredibly generous with her knowledge and expertise. As someone new to the teaching profession, I can personally attest to her willingness to go the extra mile to help her colleagues. As a faculty new to teaching in the classroom, Dr. Keane informally mentored me. Her door was always open to my multitude of questions, and she never appeared to tire of my emails. As the President of the Beta Pi Chapter of STT International and the Chair of the Undergraduate Education Council, Dr. Keane is a natural leader and mentor to many in the College of Nursing. Her guidance has been invaluable, and we are truly grateful for all that she has done.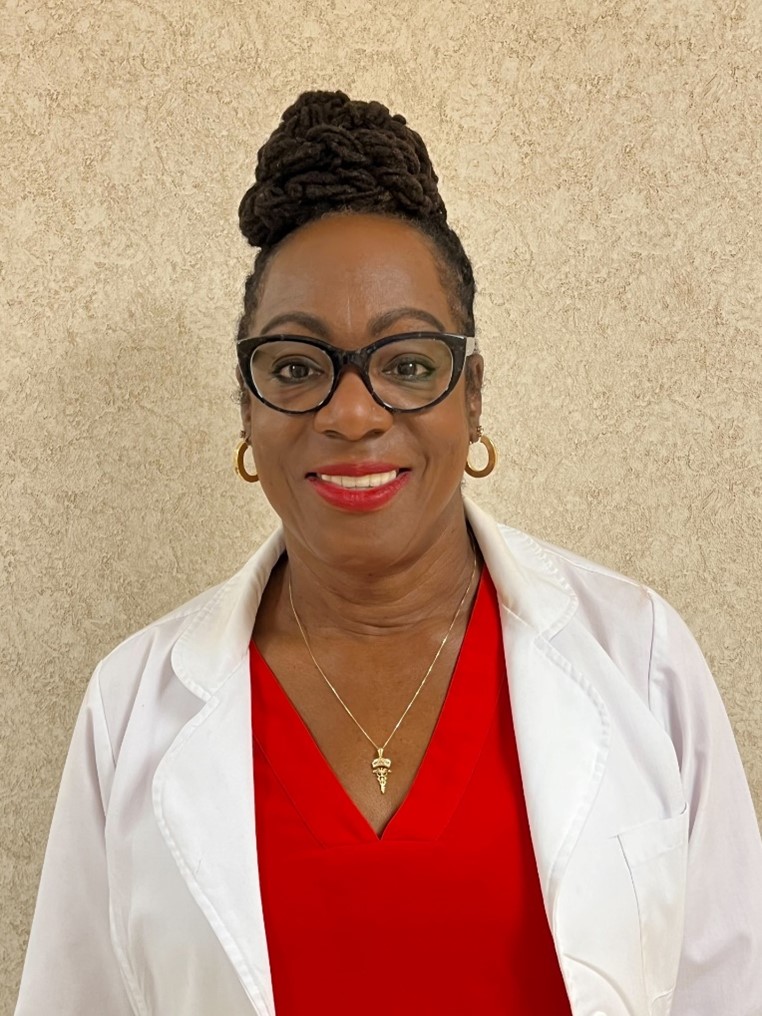 Berinice Mercer-Lewis, DAISY Award Nurse Leader
Berinice Lewis has been a force to be reckoned with in the nursing profession since the day she graduated from the FSU College of Nursing. It was clear from the start that she wanted to make a bigger impact on the profession and the acute care setting, which led her to pursue nurse leadership positions. With a fierce determination to learn all she could, Berinice seized every opportunity to gain knowledge and experience in leadership. Her hard work and dedication paid off when she started a leadership position at TMH, where she has since managed nearly every unit, often stepping in to fill vacancies and manage multiple units at once. Berinice is passionate about holding others accountable for their actions and always strives for excellence in patient care. Her leadership presence is felt every day at TMH, where her reputation for excellence is well known among her colleagues. But her leadership extends far beyond the hospital walls - Berinice also inspires others to prioritize their own health and wellness through her love of running. She has formed multiple running groups and has trained countless people, inspiring them to join her on daily runs. Berinice's dedication to leadership and patient care is unwavering, and she has had an undeniable impact on the nursing profession.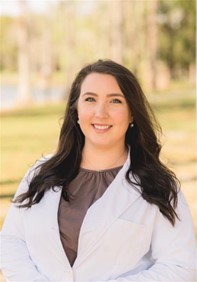 Megan Price, DAISY Award Extraordinary Nursing Student
Throughout the program, Megan has consistently demonstrated exceptional leadership skills, accountability, and a genuine desire to help others. Her commitment to providing the highest quality of patient care is a testament to her work ethic and character. Despite the virtual nature of the program, Megan has been an invaluable source of support, participating in numerous Zoom study sessions, providing insightful feedback through text messages, and collaborating on various group projects.
Megan's unwavering dedication and accomplishments will undoubtedly make her a standout nurse practitioner. Her passion for healthcare and commitment to excellence is truly inspiring, and she will undoubtedly make a significant impact in the field. It is with great pleasure that Megan is recommended for any opportunity or recognition that comes her way.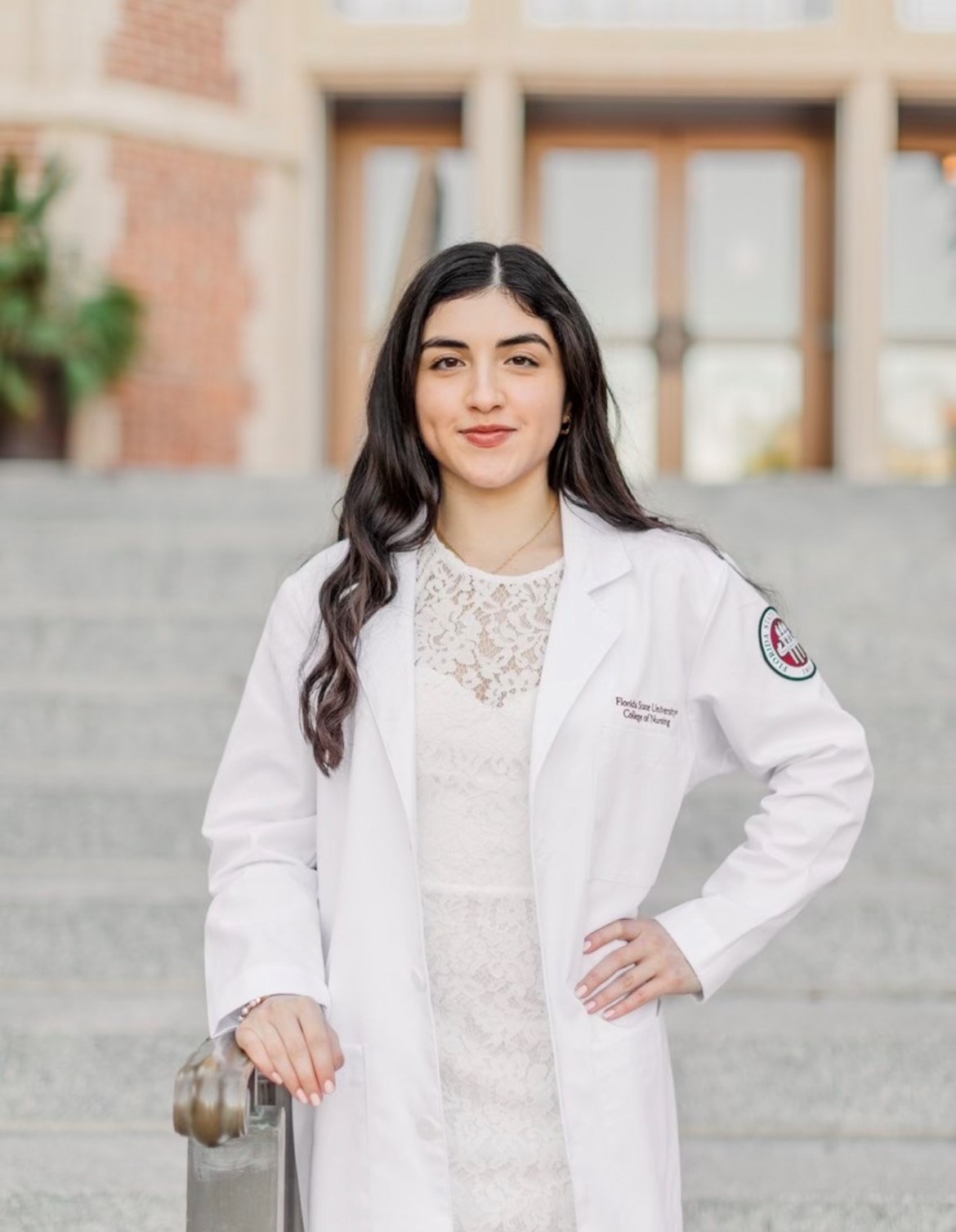 Shaina Cohen, DAISY Award Extraordinary Nursing Student
Shaina Cohen is a highly accomplished nursing student who has excelled both academically and professionally. She has consistently maintained an impressive GPA throughout her demanding academic journey Florida State University, while also volunteering extensively in various organizations such as Big Brothers and Big Sisters of The Big Bend, HandsOn Broward, HandsOn Miami, and 7 Cups. In addition to her volunteer work, Shaina has worked as a tutor for several courses and has gained valuable experience as a Nurse Extern in the operating room at Cleveland Clinic. She has also taken certification courses in content areas such as Adult Mental Health First Aid, Trauma, Domestic Violence, and Prevention of Medical Errors. Shaina is a leader amongst her peers and has been actively involved in various nursing associations and honor societies, for which she has received numerous awards and scholarships. With her hard work, responsibility, and compassion, Shaina is destine to become a Nole Nurse leader as she enters the profession.