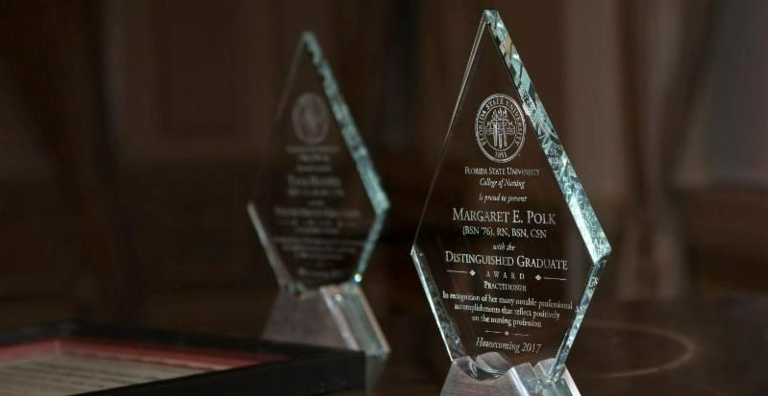 Our Distinguished Graduates Award Program serves to recognize and celebrate the accomplishments of College of Nursing alumni for their outstanding contributions to the healthcare of patients, through nursing care, research and their demonstration of the ethics and values of the nursing profession.
Award Criteria
All nominees MUST be graduates of the Florida State University College of Nursing.
Nominees cannot be self-nominated.
Nominators can complete their nomination by mail, e-mail or fax to the Alumni Outreach Coordinator. • Nominators should be prepared to submit the following information:

Names and contact information of both nominating and nominated persons o Statement of nomination in 150 words or less, explaining why the nominator feels the person is qualified
Current curriculum vita or resume of nominee o Three references and their contact information and at least one letter of reference.
Any documentation further supporting the nominee's accomplishments and qualifications for the award (other letters of support, announcement of other recognitions, news articles, etc.)

Nominations will be accepted beginning October 1, 2021 and must be submitted by no later than January 14, 2022*.
*Please note: Nominations are kept active for three years.  If your nominee is not selected in the original year nominated, you may update any piece of their file to strengthen the nomination. Three years from the original nomination date, you must update the Letter of Nomination in order to reactivate your distinguished graduate award nomination.  Members of the Alumni Council are not
eligible to be nominated for or receive the Distinguished Graduate Award.
Distinguished Graduate Awards Selection Process:
Winners will be selected by the College of Nursing's Alumni Council.
Notification
When the selection process is complete, nominees and nominators are notified of the results. Once all winners are contacted, results will be posted online.
Results can be accessed online or you may send a self-addressed stamped envelope to:

Distinguished Graduate Awards, Florida State University, College of Nursing, 98 Varsity Way, Tallahassee, Florida 32306-4310.
Winners
Distinguished Graduates Award recipients will be contacted with details regarding the ceremony.  For further information, contact alumni@nursing.fsu.edu
Submit completed nomination by January 14, 2022 to alumni@nursing.fsu.edu
2022 Distinguished Graduate Award Winners
Distinguished Graduate- Practitioner
Lisa Balskus, BSN, RN, PCCN
Lisa Balskus, class of 84, is a proud member of the FSU Alumni Association.  She currently serves as a PACU Registered Nurse at Mayo Clinic Hospital, Jacksonville Florida, where she has worked since 2018 and throughout the duration of the COVID-19 pandemic. During her career, she has excelled in healthcare, business, and charitable work.  As a woman business owner from 1988 to 1995, she started a staff-relief and homecare nursing agency which grew to one of North Florida's largest agencies before being acquired.  For over 36-years, Lisa served as a military spouse, participating in numerous programs supporting veterans and families of military members. She was a charter and pioneer committee member of the Florida National Guard Family Readiness Program and an active member of the Quilt of Honor Program, delivering quilts of thanks, solace, and remembrance to those who serve in harm's way to protect and defend our lives and freedoms. Her role in supporting her husband during his command years with the Florida Air National Guard was recognized by the Governor of Florida. She was awarded the Military Spouses Medal of Courage and the Florida Distinguished Service Medal in 2015. Following this, their assignment took them to Washington DC where Lisa worked at MedStar Georgetown while continuing her outreach honoring the Veterans.
Distinguished Graduate- Government and Community Services
Rita Smith (MSN '90), DNP, MPH, APRN, NP-C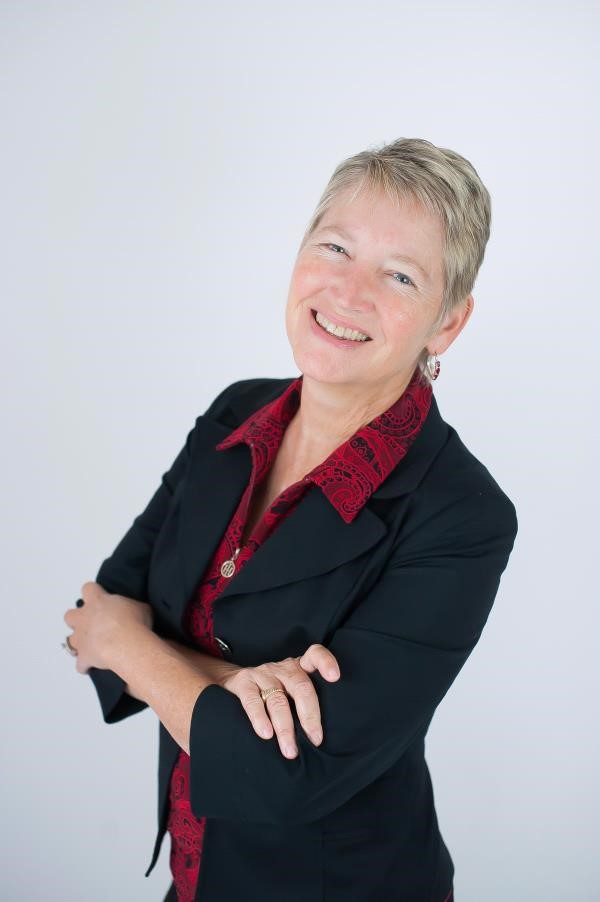 Dr. Rita Smith began her public health dream at the Gadsden County Health Department in 1987.  In 1988, she began the FSU School of Nursing's NP program to become a family nurse practitioner in public health then graduated as one of two NPs first to finish the FSU MSN program.  Later that year, Dr. Rita was offered a position in private practice and spent the next 25 years implementing public health principles into primary care.  In 2017, she returned to public health at two DOH health departments but was promoted to the DOH Statewide Nursing Director in February 2020.  Two weeks later she was activated into the State Emergency Operation Center for the COVID response where she assisted the State Surgeon General and the Executive Management Team in daily debriefings, was the subject matter expert in the statewide COVID testing and vaccination efforts as well as vetted PPE and lab supplies and hospital requests for ventilators, and managed the COVID testing of lawmakers at the Capital and dignitaries at the SpaceX Launch in May 2020.  Amid hurricane Michael, a wedding, and the pandemic, she graduated from FSU with her MPH in 2021.  Career highlights include co-leading with FNA the Nursing Action Coalition of Florida, being recognized on the  Florida Senate floor, obtaining her DNP from UAB, managing the first Florida school-based clinic, and being CEO of one of the first NP owned and operated primary care offices in the state. On March 4th 2022, she brought public health principles to the Department of Juvenile Justice where she serves as Chief Medical Officer.